---

Ruth Pointer is pictured holding a new coffee-table book

"What The Band Wore, Fashion & Music"

, featuring an unprecedented collection of photographs of bands from the 60's, 70's, 80's and 90's. The book is a fabulous celebration of fashion and music and features exclusive comments from legendary artists, including Ruth Pointer of The Pointer Sisters.

---

---

---

---

May 24. 2023 Ruth appeared on CNN with Bryan Adams to talk about Tina Turner.
Tina Turner, the "Queen of Rock and Roll" Dies at 83.
---
50TH ANNIVERSARY!
The Pointer Sisters' first album was released 50 years ago on May 26, 1973.The album peaked at number 13 on the
Billboard 200
and reached number 3 on the
R&B albums chart.
The album was certified Gold by The
Recording Industry Association of America
(RIAA).
The Pointer Sisters (album) 1973
.
---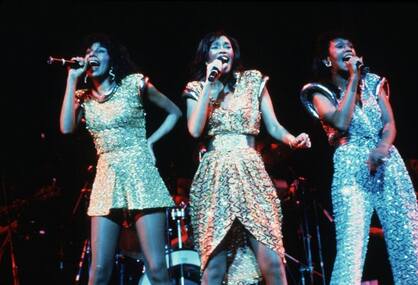 ---
---
​​​EXCITING NEWS! Anita's solo album "Love For What It Is" (RCA) is now available on Amazon Prime Music and streaming services. The album revisited the country influence that first appeared in the Pointer's "Fairytale". Highlights include a romantic duet with Phillip Bailey, "The Pledge" and the record's first single "Overnight Success", which reached #41 on the R&B chart. In 2014, Big Break Records re-released the album remastered with bonus tracks and this is the version that is now available for our listening pleasure.​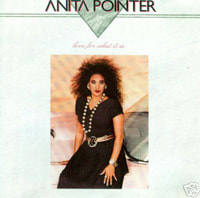 ---

​
​National Public Radio/NPR Audio:
---
---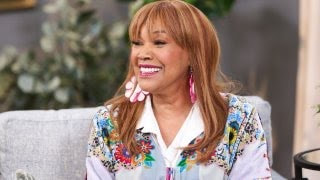 ANITA POINTER OF THE ORIGINAL R&B POP SISTER GROUP
​
THE POINTER SISTERS DEAD AT AGE 74
Beverly Hills, CA. - The Family of Anita Pointer announced her passing today at the age of 74. Anita Pointer's Publicist Roger Neal said, "She was surrounded by family at the time of her death."
Pointer was a Grammy winning writer/singer and founding member of the original Pointer Sisters, Anita's sister Ruth, brothers Aaron & Fritz and granddaughter Roxie McKain Pointer released the following statement:
"While we are deeply saddened by the loss of Anita, we are comforted in knowing she is now with her daughter, Jada and her sisters June & Bonnie and at peace. She was the one that kept all of us close and together for so long. Her love of our family will live on in each of us. Please respect our privacy during this period of grief and loss. Heaven is a more loving beautiful place with Anita there."
Anita Marie Pointer
was born in Oakland, Ca on January 23, 1948, she was the fourth of six children to Reverend Elton & Sarah Pointer. Anita and her sisters grew up singing in their dad's church. In the tenth grade Anita played alto sax as a member of the McRae High School band. In 1969 Anita quit her job as a secretary to join her younger sisters Bonnie, June and her sister Ruth to form the POINTER SISTERS. Anita leaves behind, her sister, Ruth Pointer, brothers Aaron Pointer, Fritz Pointer and granddaughter Roxie McKain Pointer.
Anita's only daughter Jada Pointer, passed away in 2003, Anita's pride and joy was raising her only grandchild Roxie. Jada inspired a very popular Pointer Sisters song "Jada" in tribute to Anita's daughter.
In 1973 their debut album gave them the hit single "Yes, We Can Can" which reached #11 on the Billboard charts, Anita and Bonnie wrote their first major Grammy winning hit in 1974 "Fairytale", (from their That's a Plenty album), which crossed over from the country charts to the pop charts, in fact The Pointer Sisters were the first African American group to perform at the Grand Ole Opry. They were also the first contemporary act to perform at the San Francisco Opera House. Anita also spoke of how excited she was when Elvis recorded Fairytale and started singing it in his concerts until his death in 1977. Their fourth album "Steppin" produced such hits as "How Long" (Betcha Got A Chick on the Side), co- written by Anita and her sisters, that went to the top 20 pop charts and sailed all the way to #1 on the R&B Charts.
In 1976 the Pointer Sisters made their feature film debut singing in the feature film Car Wash starring Richard Pryor.
They teamed up with record producer Richard Perry and changed their style with such hits as "Fire" which went all the way to #2 on the charts and went gold! In 1980 they hit with "He's So Shy" which also went gold and to #3 on the charts and 1981 "Slow Hand" which went to #2 on the charts and became an anthem for women.
The remixed version of "I'm So Excited" went to #9 on the pop charts in 1984 and 1985 with "Neutron Dance" going to #6 on the pop charts, was featured in the hit film Beverly Hills Cop, starring Eddie Murphy.
Their "Breakout "album went triple platinum with hits like "Jump(for my love)" and "Automatic" and won them two American Music Awards. This album was the biggest selling album of their career.
They won two more Grammy Awards for their top 10 hits "Automatic" which skyrocketed to #5 on Billboard and "Jump (for my love)". They became one of the first black acts to be in heavy rotation on MTV and appeared in several late night talk shows and TV specials. In 1986, Anita recorded a duet with country star Earl Thomas Conley that went to #2 on the billboard country charts called "Too Many Times."
The Pointer Sisters won a total of three Grammy Awards and received a Star on the Hollywood Walk of Fame in 1994. The Pointer Sisters had 13 U.S. top 20 hits between 1973 & 1985. Anita and her sisters appeared on such shows as The Carol Burnett show, The Cher show, Flip Wilson Show, Love Boat to name a few. The group sold out performances across the world for many years.
The Pointer Sisters also toured for 46 weeks with the Fat's Waller hit musical "AIN'T MISBEHAVIN"
Anita and her sisters have been honored with the Soul of America Music Awards and inducted in the Soul Train Hall of Fame. They performed at the White House for President Bill Clinton and in 1996 performed at the closing ceremonies at the Olympics in Atlanta.
In 2020, Anita and her brother Fritz wrote a book about growing up Pointer & about the Pointers Sisters climb to fame entitled "FAIRYTALE"
Anita Pointer also amassed a large collection of African American Art/Memorabilia and a few years ago at The Hollywood Museum in the Historic Max Factor Building, the entire 2nd floor was given to Anita for her EVER AFTER Pointer Sisters exhibit with original costumes, Awards, and memorabilia from their amazing career. Anita amassed many original costumes from The Pointer Sisters' incredible career and the exhibit is still up today at the museum. In fact, the last photo of Bonnie, Anita and Ruth was taken at that Exhibit at The Hollywood Museum before Bonnie passed away.
Released by publicist Roger Neal.
---